MEET OUR VETERINARY CARE TEAM
At Streetsville Animal Hospital we are pet lovers too!  We know how important our four legged family members are to us and we will treat your pets with the same care, love and respect that we offer ours.  We are always eager to get to know our clients and patients so we thought we would tell everyone a little bit about ourselves as well!
Jennifer Bridges
Client Care Representative
Jennifer graduated from the Animal Care program at Sheridan College in the spring of 2007 and began working at Streetsville Animal Hospital that summer.  Her favourite part of working at the hospital is getting to know our clients and their pets and enjoys being a part of keeping them happy and healthy.  When she is not working her interests include visiting various Canadian historical sites, keeping current with cosmetic trends and spending time with her family and friends.  She is the proud owner of a cat named Dane.
Michelle Carreiro
Client Care Representative
Michelle began working in a Veterinary Hospital while in high school and enjoyed it so much she enrolled in Cedar Valley College, a distance education Veterinary Technician Program.  Over the years Michelle has worked as a Veterinary Technician and joined Streetsville Animal Hospital in February of 2010.  Michelle spends her life with her 2 white German Shepherds Sandy and Sadie, her husband Jason, sons Joel and Nathan and daughters Emily, and Katelyn.  When not at the clinic her interests include baking, playing baseball and watching movies with the family.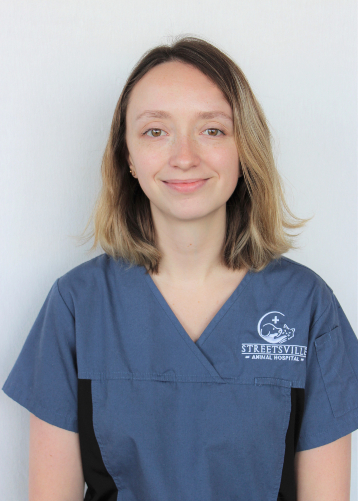 Megan Norrlinger
Veterinary Technician
Megan graduated from the Veterinary Technician program at Georgian College in 2016, and began working at Streetsville Animal Hospital shortly thereafter.  She is now studying Agricultural Science at the Univeristy of Guelph.  She has a Golden Retriever named Lucy, a pet rat named Merlot, and a frog named Izzy.  In her spare time, she enjoys horseback riding, playing guitar, and reading.
Vanessa Connock (Currently on Maternity Leave)
Veterinary Assistant
Vanessa recently joined the SAH team in September 2019.  She has been working in the animal care field as an ACA and Vet Assistant for 17 years. She got started through a co-op program in high school and later went on to graduate from the animal care program at Sheridan college.  In her spare time Vanessa enjoys travelling, listening to live music , reading and going on hikes with her fur baby Abby.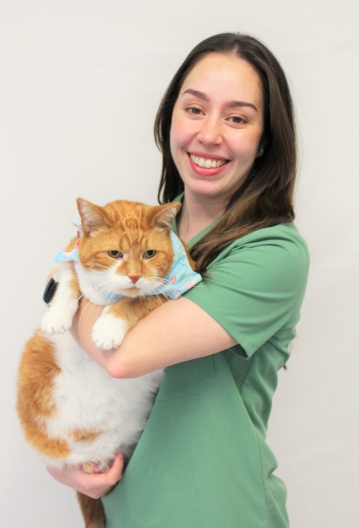 Danielle Gioia
Veterinary Assitant
Profile coming soon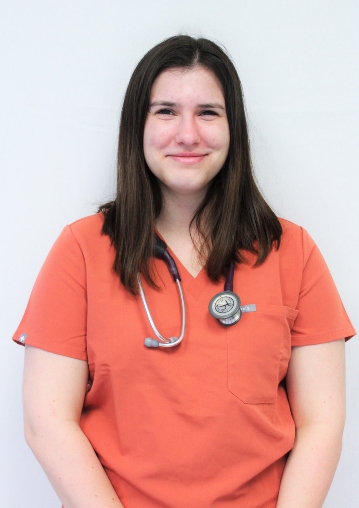 Audrey Bourget
Veterinary Technician
Profile coming soon